Standard Bank Group ("Standard Bank" or "the group") delivered record headline earnings of R34.2 billion for the twelve months to 31 December 2022 (FY22 or the current year), up 37% on the prior year. The group recorded continued client franchise growth across all its businesses and geographies.
RESULTS OVERIVEW
"We delivered strong earnings growth which drove higher returns. Earnings growth and robust capital levels supported higher dividends for shareholders. The group is ahead of its 2025 plan and confident we will deliver our targets" says Mr Tshabalala.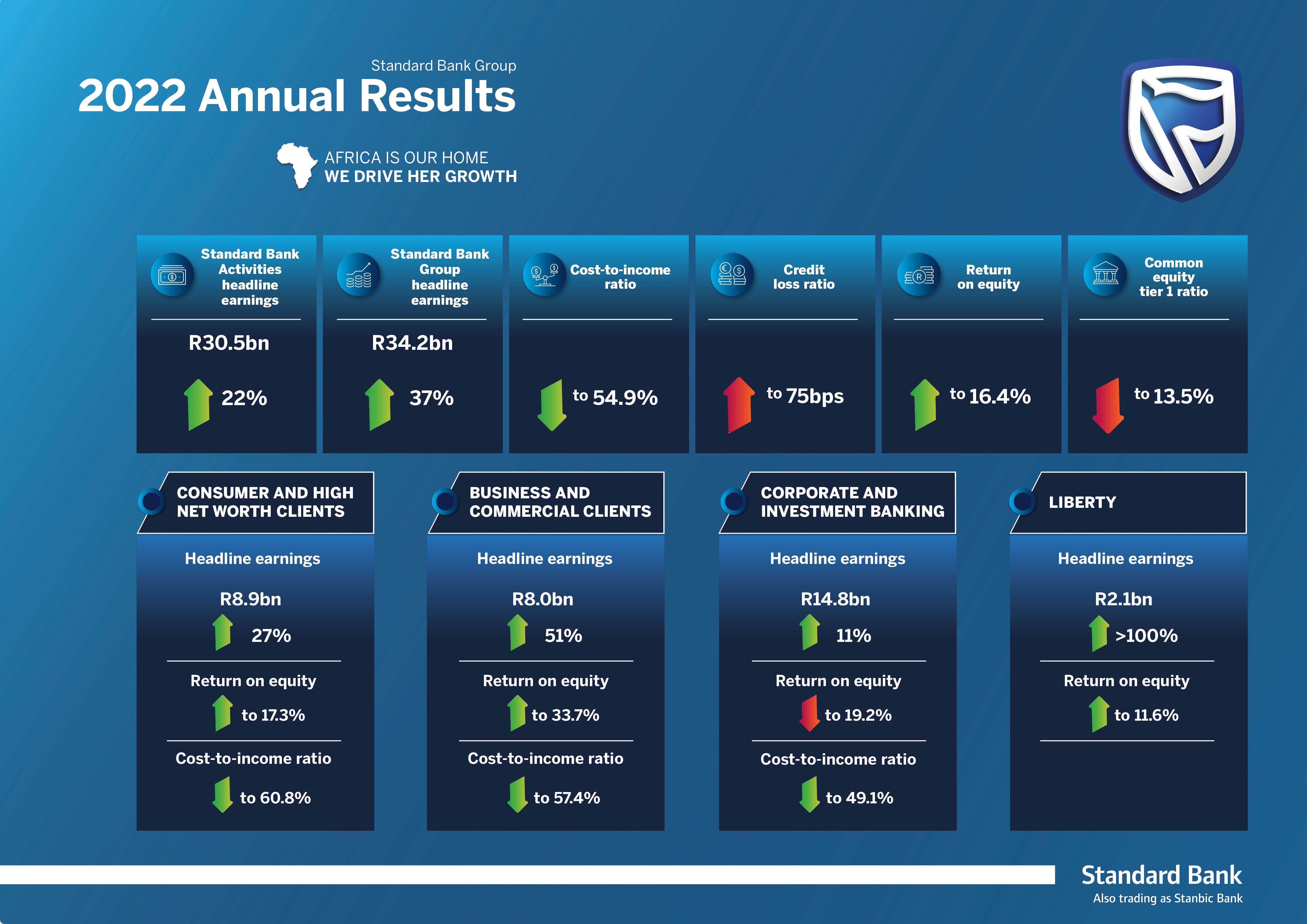 Group results
Revenue growth was strong and well ahead of cost growth which supported strong positive operating leverage and a decline in the cost-to-income ratio.
The group's credit loss ratio was at the bottom of the group's through-the-cycle range and ROE improved to 16.4% (FY21: 13.5%), closer to the 2025 target range of 17% to 20%. Net asset value grew by 10% and the group ended the current year with a common equity tier one ratio of 13.5% (31 December 2021: 13.8%). The SBG board approved a final dividend of 691 cents per share which equates to a final dividend payout ratio of 60%.
Strong average balance sheet growth and margin expansion, due to higher interest rates, supported robust net interest income growth. A larger client base, recovery in transactional and foreign exchange activity, as well as increased digital volumes, drove growth in net fee and commission revenue. Increased client activity supported trading revenue. Revenue growth exceeded cost growth, resulting in a decline in the cost-to-income ratio to 54.9% (FY21: 57.8%). Credit impairment charges increased by 22%, driven by higher corporate and sovereign-related charges, particularly related to Ghanaian sovereign exposures. The group's credit loss ratio was broadly flat at 75 basis points (FY21: 73 basis points).
Liberty Holdings Limited's (Liberty) operational performance improved. The business reverted from a net loss in FY21 to a profit of R2.1 billion.
"The Liberty minority buyout was successfully completed and the process of integrating Liberty into the group is well underway. While there is further work to be done, we remain confident that the full integration of Liberty into the group will create sustainable value for shareholders.", says Mr. Tshabalala.
The South African franchise delivered headline earnings growth of 26% and ROE improved to 15.2% (FY21: 12.5%). Revenue grew by 12% driven by balance sheet growth, margin expansion linked to higher interest rates, and a recovery in client activity to pre Covid-19 levels. Credit impairment charges increased by 10% reflective of the difficult economic environment and deteriorating client trends.  South Africa contributed 47% to FY22 group headline earnings.
The Africa Regions franchise delivered a robust performance. Headline earnings grew by 36% and ROE improved to 21.0% (FY21: 18.2%). Revenue grew by 30% driven by a larger balance sheet, higher interest rates, higher transactional volumes, a recovery in international trade, and strong growth in trading revenue. The top six contributors to Africa Regions headline earnings were Angola, Kenya, Mozambique, Nigeria, Uganda, and Zambia. Africa Regions contributed 36% to FY22 group headline earnings.
Mr Tshabalala adds, "In line with the group's stated approach to support Africa's just energy transition and its ambition to be the leader in sustainable finance on the continent, the group mobilised R55 billion of sustainable finance loans and bonds in FY22, more than doubling origination of these products in FY21."
Standard Bank Group's Outlook
In 2023, global growth is expected to slow, and inflation is expected to decline. The International Monetary Fund is forecasting real GDP growth, globally, of 2.9% and sub-Saharan African growth of 3.8%. High sovereign debt levels in certain African countries remain a concern, particularly Ghana, Kenya, Malawi, and Nigeria.
In South Africa, we are anticipating interest rates to increase by an additional 25 basis points in 1H23, followed by a pause. Inflation is expected to moderate to 5.9% in the year ahead. The economy is expected to grow at 1.2%, held back by severe electricity shortages and structural constraints. The level of electricity disruptions experienced year to date are unprecedented. We are concerned about the additional strain this is likely to place on our clients and the economy as a whole. In February 2023, despite making significant progress on the Financial Action Task Force (FATF) recommended actions, South Africa was grey listed by the global money laundering and terrorist financing watchdog. We will continue to work with the authorities to remedy this.
Mr Tshabalala says: "FATF has emphasised that South Africa's major banks have excellent controls. Standard Bank and our peers have worked very closely with the National Treasury and the South African Reserve Bank to ensure that key stakeholders – including our correspondent banks – remain comfortable with engaging and transacting with us. Our international partners continue to have a high level of trust in the effectiveness of Standard Bank's money laundering and terrorist financing control frameworks. While South Africa did not avert the listing, a lot of progress has been made in recent months, including legislative amendments and administrative improvements. FATF has now asked South Africa to focus on eight 'priority actions' over the next three years. In essence, these require the South African authorities to demonstrate that they are more frequently and systematically reporting, investigating and prosecuting financial crimes. The amount of time that South Africa will spend on the grey list depends to a very large extent on how well-coordinated and energetic these efforts are.'
Mr Tshabalala says: "As a group, we have both the capital and appetite to support our clients' growth. However, our balance sheet growth will remain subject to the economic growth, policy and enabling frameworks in the countries in which we operate, and in turn our clients' confidence to invest. The South African economy – and the people of South Africa – have had a very difficult time over the past several years. Much of our hard and soft infrastructure is severely run down, and there is, understandably, a lot of pessimism. We believe, however, that meaningful structural reform is now underway. We expect, for example, that an improvement in the electricity supply over the next few years will lift confidence and accelerate economic growth and job creation. We stand ready to support renewable energy and infrastructure projects and longer term Africa's just energy transition to what is net zero by 2050."
The group's 2023 ROE is expected to show continued progress from the current 16.4% into the group's ROE target range, driven by continued growth in our mainstay banking business, supplemented by deliberate allocation of capital to high growth markets.
"We recognise that the strategic progress we have made in FY22 is the outcome of our clients' trust in us, our employees' dedication and hard work,  our regulators and partners' support, and our shareholders' belief in our strategy. We thank all our stakeholders for their continued support.
We strive to deliver increasingly attractive returns to our shareholders and continued positive impact for all stakeholders in the economies and societies in which we operate. We are confident we can deliver on our 2025 commitments to the market.", says Mr Tshabalala.
Group targets 2025
Revenue Growth
(CAGR 2020/2025)
7% – 9%
Cost-to-income ratio
Approaching 50%
Credit loss ratio
(Through-the-cycle)
70 basis points  – 100 basis points
Return on Equity
17% – 20%
CET1 Ratio
>11.0%
Positive Impact
Standard Bank is committed to making a positive difference in the societies in which it operates. In the last financial year, Standard Bank has made meaningful impacts in the areas of financial inclusion, job creation, sustainable finance, infrastructure, Africa trade and investment, education and health.
Financial Inclusion
R4.9 billion lent to over 8 000 new affordable housing mortgage customers in SA
4.2 million Instant Money customers
Over 50 000 MyMoBiz customers
Job creation and enterprise growth
Helped over 1.2 million people receive nutritious meals, and enabled 354 emerging farmers to access markets through OneFarm Share
Helped create +20 000 job opportunities through our partnership with the Founders Factory Africa
Supported over 900 small businesses through our Accelerate Programme in Kenya
Grew the Unayo client base grew to 450 000 users and processed over 913 000 transactions worth R630 million
Climate change and sustainable finance
Mobilised R54.5 billion in sustainable finance solutions, including R18.5 billion to finance renewable energy power plants and R2 billion financing for social projects
Saved homeowners R5.5 million annually through solar installations and smart home solutions
IInfrastructure
Helped facilitate the development of the Port of Lamu, a key trade and logistics route for Kenya's northern corridor
Financed six renewable energy infrastructure projects in South Africa
Coordinated a loan to support the construction of a natural gas pipeline and processing facilities in Ghana
Africa Trade and Investment
Supported over 300 South African businesses with supply chain finance solutions to the value of over R1 billion
Supported over 42 000 businesses with trade solutions
Facilitated R436 billion in outward international payments, with a growth in value of 52% and growth in volume of 26%
Processed 10 500 transactions worth nearly R77 billion through Aroko, our cloud-based blockchain solution
Education
Disbursed unsecured student loans to the value of R39 million for 431 students
Disbursed R48.1 million through our Feenix platform, benefitting 1131 students
Health
Co-financed €10 million project finance social loan for the rehabilitation, upgrade and expansion of three regional hospitals in Angola
CSI funding of almost R43 million.